Former Manly Vale FC stalwart wins FFA Award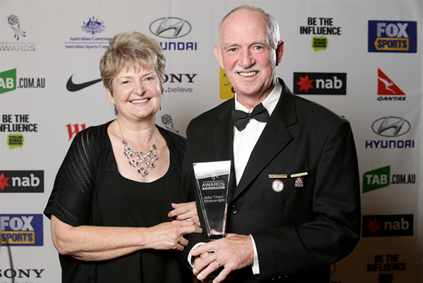 Winner of the 2012 FFA Volunteer of the Year was Manly Vale FC Life Member, John Wainwright or "Chips" as he is affectionately known. Clearly the football passion is strong in his family as he is the brother of our own Patron and current Manly Vale FC Ladies PL B Assistant Coach and also MVFC Life Member – Keith Wainwright. Chips received his award at the November 2012 fourth annual FFA Awards gala event at the Sofitel Hotel where the guests of honour were former Italian international and current Sydney FC marquee Alessandro Del Piero, along with Newcastle Jets Emile Heskey.
John has coached at Grassroots club level for 53 consecutive years. Earlier in 2012 he was named the Football Mid North Coast Volunteer of the Year. John spent his first 30 years at Manly Vale Football Club, before moving to the mid north coast of NSW and commencing a 23 year association with his current club Tinonee. In addition to this John has served as almost every committee position within the club, referees games when needed and with his background in building, he also assisted in building the current clubhouse.
John has demonstrated excellence in volunteering not only by the length of his consecutive service in the game, but also by his fantastic attitude, passion for football and love of mentoring children.
"Chips" said "I usually take the teams no-one else wants, it doesn't matter to me, I just love kids and being a part of their life". This outlook is a great reflection on John and validates his contribution to local football and the local community as a whole.
John has coached for 53 consecutive years, a number of occasions coaching 2 or 3 teams in one season. John is constantly being innovative, and sums up his approach to Grassroots coaching in saying "there is only one thing I love more than football and that is the happiness of a child." From all at Manly Vale FC – we salute you John on your well deserved recognition!