Roy Sider's FNSW State Award 2012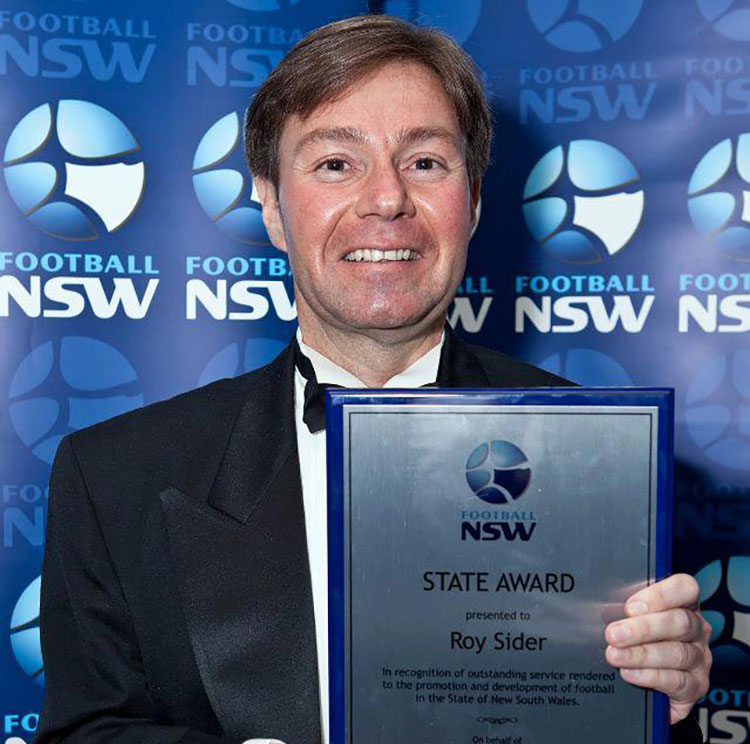 FNSW State Award recipients are nominated by their Association in recognition of their tireless efforts and service to football in their local community. In 2012 the MWFA successfully nominated Roy Sider from the Manly Vale Club to receive a State Award.
Roy is one of those 'one club' stalwarts whose relationship with football commenced during his infant years when he signed up for Manly Vale FC Under 10s in 1975. His playing career has spanned the age groups and amateur league levels, peaking with a FNSW Champion of Champions Grand Final appearance in 1983 with his double winning Under 18s. He is determined to commence his 39th consecutive season in 2013 playing for Manly Vale in Over 35s. He has won the customary number of premierships as well as a number of 'best and fairest' awards during his playing years.
However it is Roy's off field achievements that are testament to his impact on the local football landscape. Lured by the questionable pretence of a couple of hours maximum volunteer effort per month to fill the role of Club Secretary in 2000 by then club president Tom Miles, Roy undertook his responsibilities with more than a passing interest of part time fulfilment. Roy has held this position continuously for 12 years. One of Roy's early initiatives in 2001 was to co-ordinate a club strategy forum that sought to identify a series of long term priorities that would push the club's vision and boundaries beyond just a 'season to season' existence. This gave rise to a recognition of the need to upgrade the club's rather primitive canteen and amenities facilities that had far been outgrown by the needs of a rapidly increasing number of footballing (and other sports) patrons frequenting David
Thomas Reserve.
In 2005, with the lobbying assistance of then MWFA President, Linda Ward, the Manly Warringah Pittwater Sporting Union agreed to direct Council funding for the construction of a new amenities facility at David Thomas. Roy seized the opportunity to seek Council's (and MWFA's) assistance to simultaneously undertake an upgrade of the sub standard lighting at David Thomas Reserve, and so began a 4 year exercise in project management, development applications, contractor engagement, bureaucracy negotiation, Council liaison and club fund-raising to facilitate a $750k project upgrade at David Thomas Reserve – which was all finally completed in 2009. Following the completion of the facilities upgrade at David Thomas Reserve, Roy turned his sights onto the David Thomas Reserve fields playing surface which had deteriorated markedly. Together with the extension of perimeter fencing around the creek side aspect of David Thomas Reserve completed in 2012, the fields are now a vast improvement on the granite, pot-holed and grassless surface of the last ten years or so. It is
fair to say that without Roy's professionalism, passion and crusade.

On a personal front, in 2004 MWFA awarded Manly Vale FC the "Secretary's Shield" in recognition for Roy's contribution to the club's well-heeled administration. In 2006 he was bestowed with Life Membership of Manly Vale FC. Roy has also acted as his club's delegate to the MWFA Council of Clubs forum continually since 2000 and has also served as a member on the MWFA Appeals, Protests and Disputes Committee since 2006.
Roy is a good example of an energetic volunteer combining his professionalism with an honest, grassroots approach to football administration that has resulted in a significant benefit to not just the football experiences of Manly Vale FC members but to the wider Manly Warringah Football community.